Polypodium Leucotomos (PLE) 20:1 Extract Veg 500mg Capsules For Healthy Skin. 60  Veggie CAPSULES
Polypodium Leucotomos (Calaguala) is the commonly referred to name of a herb that appears to possess moderately potent protective effects against sun-induced skin damage; may also be an immune booster Target Areas Prevent Skin Damage Supports Immune Functions The Herbadiet Difference !!! Our Polypodium contains a super high-potency extract of..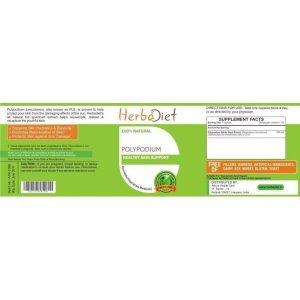 ✅ Polypodium Leucotomos is rich in Antioxidant properties that has ability to prevent and manage skin issues. It helps to keep skin free from skin problems also soothing one..
✅ Antioxidants are compounds that fight free radicals, unstable molecules that damage cells and proteins in your body..
✅ Taking supplements made from the plant is thought to help maintain inflammatory skin conditions. It help in manage skin dryness by nourishing the skin cells and for restoring the skin balance..
✅ To keep your skin healthy, Taking one capsule twice each day after meals may provide positive results. For most optimized effects long term use of this supplement is recommended..
HERBADIET DIFFERENCE !!
Freshly Sourced
Third-Party Lab Tested
High Quality Durable Zip-lock Packaging
ZERO Fillers, Additives, Synthetic Ingredients, Colors & Flavors
1 serving provides 400 mg 10:1 polypodium extract, equivalent to 4000mg of polypodium leavesPolypodium is an effective Daily Skin Support Supplement that helps protect and maintain the health of your skin. Polypodium , when taken daily, is research supported to help neutralize damaging free radicals that may form in the skin.
Dosage: One capsule a day supports a reduction in anti-photo aging, reduction .