Long Handle Toe Nail Clippers , Toe Scissors Ergonomic Care Pedicure Cutter Blue Stainless Steel Beauty Tools
Having difficulties cutting your Toe nails, Its always a struggle and half. Has we get older it gets harder.The small handle clipper is so much hard work.Also they are expensive to buy and does not always give you a nice even cut.These scissors are amazing. Try them for such a low cost.
ERGONOMICALLY DESIGNED: 8 ¼" extra long handled toenail scissors that are easy to use for women and men of all shapes and sizes. This Scissors also gives an excellent cut on hand nails. Smoother and clean cut compared with a nail Clipper.
STAINLESS STEEL: Made with high grade stainless steel, these nail scissors with the turquoise tight grip handle and angled blade provides maximum comfort and gets the job done on the first snip!
MAXIMUM CONTROL: These stainless steel nail scissors, with a turquoise, tight grip handle and angled blade, provide the most amount of control and comfort possible!
LESS STRESS: With the extended handle design, you'll have a much easier time trimming your nails without the need to be hunched over and cramped up.
SATISFACTION GUARANTEED: We know that the craftsmanship on these scissors is a cut above the rest. You'll never want to use anything else to trim your nails.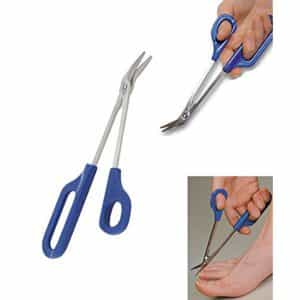 specification:
Material: Stainless steel
Size: 20×5.5cm
Package Contents:
1x nail clipper